A Clear Voice for Indigenous Rights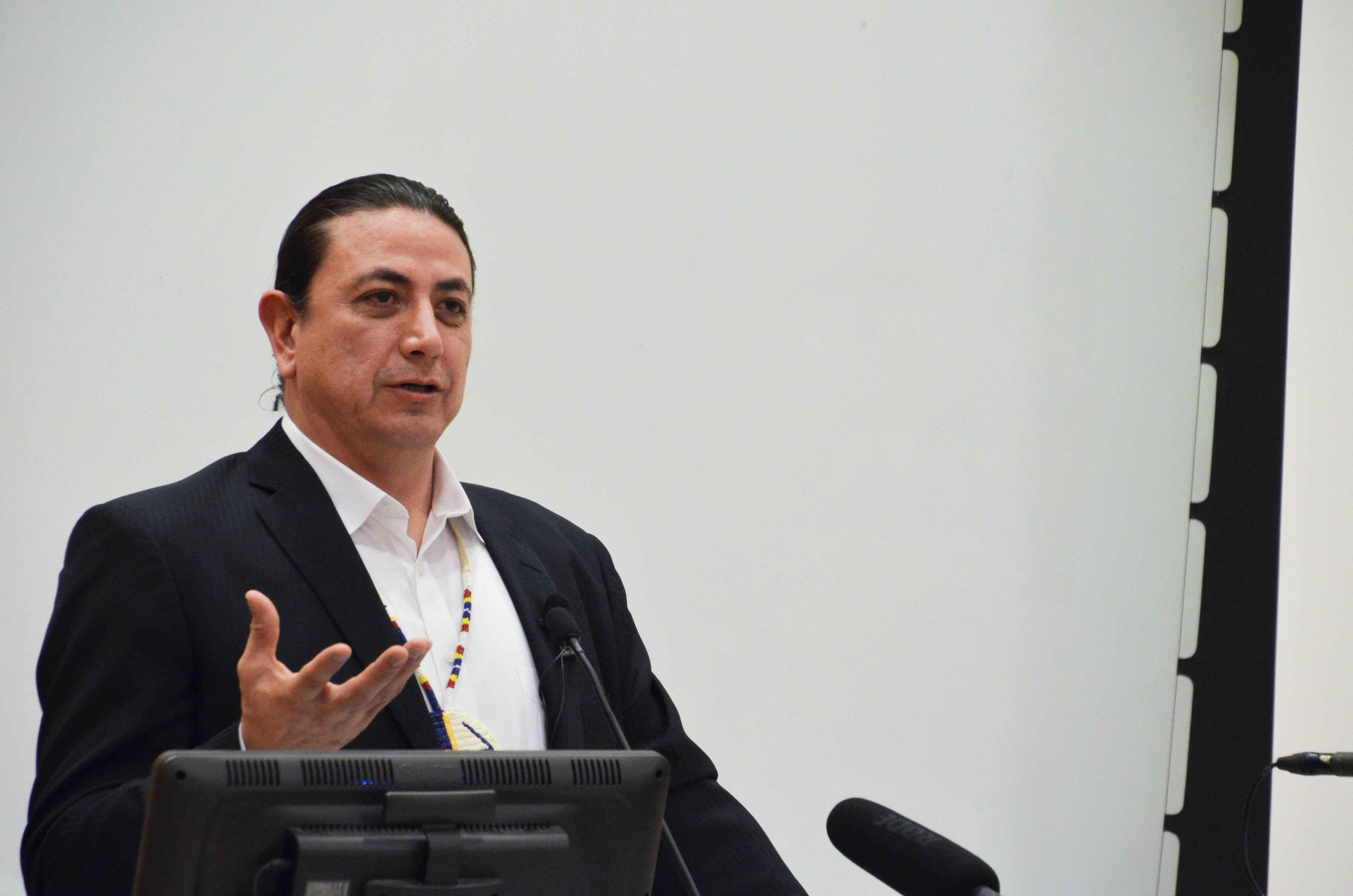 "Water is the source of life. By protecting water, it helps us remember what our ancestors left behind, and it also lets us protect the future for our children who are not yet born."
"One of the things I want to do is make sure that we create the hope that is necessary for the future…As long as I put a focus on the future, I can sleep at night," said David Archambault II, chairman of Standing Rock Sioux Nation. Invited to speak on February 16, 2017 as part of the College of Agriculture and Life Sciences' Department of Natural Resources Spring 2017 Seminar Series on the theme of hope, he explained that his decisions are based on the best outcome for the young people who are yet to be born.
In attendance at his talk "Standing Rock: The Violation of Indigenous Peoples' Rights" were representatives of Cayuga Nation, Seneca Nation, and Oneida Nation, along with students and faculty from Cornell—especially from the Natural Resources and American Indian and Indigenous Studies programs—and members of the local community.
Outspoken for Indigenous rights, Archambault recently received Native American Leadership Award from the National Congress of American Indians. He has addressed Indigenous rights before the Human Rights Council of the United Nations and written on the topic for the New York Times. He was named by Foreign Policy magazine as a Global Thinker of 2016 for his stewardship of the Dakota/Lakota homeland.
A History of Marginalization
During his talk, Archambault outlined the history of interactions and written treaties between the Sioux Nation and the U.S. government, dating to the early 1800s. While the Sioux Nation signed treaties to achieve peace, Archambault explained, their history of experiences with the U.S. federal government has taught them that treaties are often not honored.
He outlined the downward trajectory of federal government policies that have impacted Standing Rock Sioux Nation—including land-grabbing of the Black Hills in the 1800s, the Wounded Knee Massacre in 1890, the insult of citizenship in 1924, the building in the 1940s and 1950s of the largest dam in the world (for recreation and hydro-electricity) that flooded Standing Rock lands, the forced-removal of children from their homes to boarding schools and denial of the Sioux language.
"This was just the beginning of a lot of the wrongs that were committed," Archambault said. "The hardship comes back." He explained the impact by saying that, today, five of the 10 poorest counties in this country are of the Great Sioux Nation, and two are in Standing Rock. "With poverty comes all the symptoms: high suicide rates, abuses, alcoholism, drug use, lack of housing, lack of law enforcement."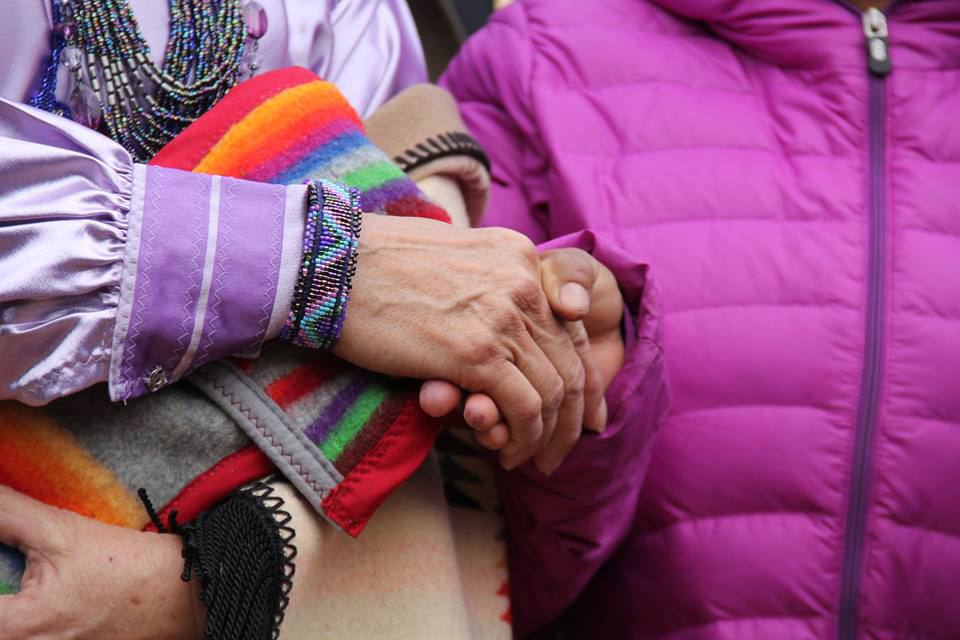 "It is difficult to be a part of the legacy of custodial Indigenous cultures in North America and to witness the ongoing dispossession of the Standing Rock Sioux," said Jolene Rickard, director of the American Indian and Indigenous Studies Program, co-host for Archambault's visit, and associate professor of art, and history of art and visual studies in Cornell's College of Arts and Sciences. "Chairman Archambault provides a face of courage with a situation that has few positive options. He is directing his focus to using this moment of worldwide attention to garner support for his people and nation."
Water, Not Oil
In 2003 the oil industry boom in North Dakota brought crime and drugs, Archambault said, such as cocaine, heroine, and meth—and that sparked the beginning of the community's opposition to pipelines.
"In 2007 our tribe said we don't want pipelines in our ancestral lands," he said. "We saw not only the bad in the social ills, but also the environmental ills of unregulated pipelines and fracking water." In 2013 Standing Rock passed resolutions against the Keystone XL Pipeline.
"Our focus has been on our children," Archambault said, explaining the emphasis of his chairmanship, which began in 2013. "We can invest in our kids…and create the brilliant minds that will solve all the things that plague us. If we invest in them, they will have the answers in the future."
Vocal opposition to the Dakota Access Pipeline grew among the youth of Standing Rock. Archambault said that "We don't want oil in our water" was the first call to action by the young people when, in 2014, Energy Transfer Partners tried to persuade the tribal council to commit Standing Rock Sioux Nation land for the Dakota Access Pipeline.
"When our kids speak up, it's time for us to support them," he said. "They are saying, 'I want to learn the language, I am proud to be Indian, it's cool to be Indian.'"
Protecting Land, Water, and Culture
Standing Rock opposes construction of the pipeline, Archambault explained, saying it would traverse a source for its drinking water (Lake Oahe, a large reservoir behind Oahe Dam on the Missouri River), and that construction would disrupt its hunting and fishing grounds and its sacred lands.
"Our argument is that we never had an opportunity to have a say in the scoping of the Dakota Access Pipeline," he said. "If we did, we would say 'stay out of our treaty lands because there are sacred places there.'"
"Water is the source of life," Archambault explained. "By protecting water, it helps us remember what our ancestors left behind, and it also lets us protect the future for our children who are not yet born."
"Standing Rock Sioux Nation is making a legitimate request for a proper environmental impact statement," said Karim-Aly S. Kassam, International Associate Professor of Environmental and Indigenous Studies in the College of Agriculture and Life Sciences and faculty host for the seminar. "Not only will the Standing Rock Sioux Nation be negatively affected in case of an oil spill, millions of other unsuspecting Americans living downstream will have their source of water contaminated. This pipeline, like all pipelines, will create a very small number of sustainable jobs over the long-term. Yet the negative environmental, social, and cultural consequences will be very high."
I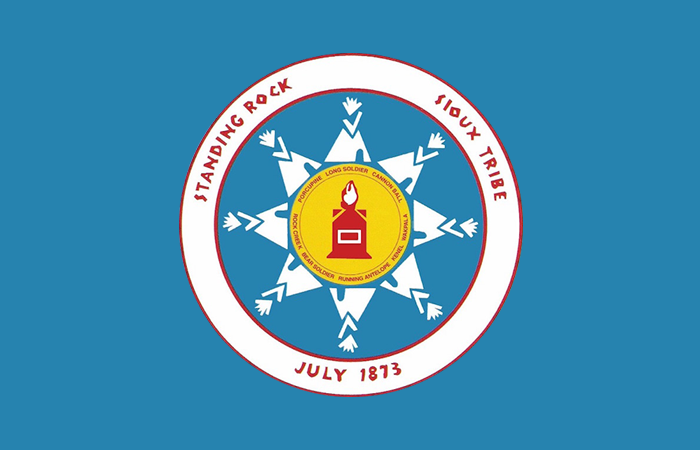 n an effort to be heard, Indigenous peoples from Standing Rock and Native nations throughout the Western hemisphere, joined by non-Native supporters, gathered in the Oceti Sakowin camp for a peaceful and prayerful message of protest against the pipeline. (They recently were directed to vacate that camp before the spring floods overtake it.)
In 2016 Standing Rock Sioux Nation filed a court case to stop the Dakota Access Pipeline construction on its ancestral lands. In the past several months, a series of legal decisions and executive actions have both supported and then thwarted Standing Rock's request for input on the outcome.
"The February 7 reversal of decision by the government of the United States to go ahead with the Dakota Pipeline, after explicitly putting a halt to that pipeline just a few weeks earlier, reflects a continuing history of broken commitments to Indigenous peoples of this continent," said Kassam. "Today, it is the Standing Rock Sioux Nation that is the victim of this type of arbitrary rule—tomorrow's collateral damage may include farmers, women, the elderly, and other common folk across the country, all to satisfy the voracious appetite of vested financial interests."
Standing Rock Sioux Nation continues litigation in federal court in the District of Columbia, said Archambault, to challenge the actions of the Army Corps of Engineers, undo the approval of the pipeline, and enforce its federally protected treaty rights for water, hunting, and fishing.
"We are going to continue the fight," Archambault said. He ended his talk with an invitation for others to join in solidarity with Indigenous peoples for the "Rise with Standing Rock" march in Washington, DC on March 10, 2017.
Standing Rock and Cornell: Partners
During his visit to Cornell University, Chairman David Archambault met with numerous faculty to discuss topics of current concern to Standing Rock Sioux Nation.
The research group of Karim-Aly S. Kassam, International Associate Professor of Environmental and Indigenous Studies in the College of Agriculture and Life Sciences and faculty host for the seminar, has been working with Standing Rock for nearly a decade. Their current project focuses on building anticipatory capacity for climate change, and they are exploring future work on food sovereignty and food security.
"It is chairman Archambault's key obligation to protect and conserve the lands, waters, and culture of his peoples," said Kassam. "It is our role as students and faculty to directly engage communities by learning about their concerns and sharing our knowledge. This is how we, together, engender hope and wise stewardship."
During a luncheon on Friday hosted by the American Indian and Indigenous Studies Program for faculty and students, "Archambault made clear that the Standing Rock Sioux was a self-sustained community up until the 20th century, citing mono-cropping farm policy in conjunction with the annihilation of the buffalo as key disruptions," said Jolene Rickard, director of AIISP and co-host for Archambault's visit. "This observation underscores his laser-like focus on recovering economic, cultural, and legal autonomy for the Standing Rock Sioux Nation, regardless of this most recent interruption of the Dakota Access Pipeline."
"Global environmental changes are altering and eroding plant diversity," said Christopher P. Dunn, the Elizabeth Newman Wilds Executive Director at Cornell Botanic Gardens, speaking about his group's discussion with Archambault of botanic issues at Standing Rock. "Plants that are used for myriad purposes are disappearing or becoming rare. Comprehensive plant conservation efforts must include work with, and stories about, these local communities."
"The continued struggle over the pipeline involves issues related to environmental justice, but issues of treaty and property rights are never far from the center of discussion," said Gerald Torres, the Jane M.G. Foster Professor of Law, and a faculty fellow in Cornell's Atkinson Center for a Sustainable Future, who met with Archambault during his campus visit. "Chairman Archambault has elevated discussion of the issue to one of tribal self-governance and the interests of the people of Standing Rock and other tribes."
"One of many things we learned from Chairman Archambault is the complexity of being a leader. Much of what leaders try to do often gets polarized into black and white extremes of what is actually a spectrum of challenges and opportunities," said Patrick J Sullivan, professor and chair of Cornell's Department of Natural Resource, the host department for Archambault's visit. "He models how trying to learn about, live with, and appreciate our environment should be important to us all."
"Indigenous cultures represent the opportunity to understand the interconnectedness between a worldview and environmental sustainability, and this year the Standing Rock Sioux are 'ground zero,'" said Rickard, commenting on the value to Cornell students and faculty in the opportunity to hear directly from Chairman Archambault. "Perhaps the teachable moment is that while the field of Indigenous studies is uncovering the historic impact of colonization, the entire academy needs to address ongoing structures that continue to oppress Indigenous and all peoples globally to avert the next rupture."
"I was struck by the genuine commitment and passion of both Chairman Archambault and his wife, Nicole Thunder Hawk," said Laura Spitz, vice provost for international affairs at Cornell and a co-sponsor of the talk and visit. "When asked what we might do to support their efforts, they responded 'follow your heart.' What I took from that is there's much to be done everywhere, in all communities, and support and resistance takes many forms. The suggestion to follow one's heart is simultaneously empowering and challenging. It refocuses and channels energy in sustainable ways, connecting effort with thoughtful reflection. I was both moved and re-energized by time spent with Chairman Archambault and members of the Cayuga, Onondaga, and Seneca nations."
The seminar and campus visit were sponsored by the Department of Natural Resources; cosponsors included Cornell's American Indian and Indigenous Studies Program and the Office of the Vice Provost for International Affairs.