About Global Cornell
Strategic leadership for global engagement and internationalization at Cornell University
---
Office of the Vice Provost for International Affairs
The Office of the Vice Provost for International Affairs (OVPIA) provides administrative leadership for global engagement at Cornell. The vice provost for international affairs oversees and manages Cornell's global partnerships, and supports and facilitates global activities for colleges, faculty, staff, and students. Key partners across the university include Alumni Affairs and Development, Counsel's Office, Office of Engagement Initiatives, Financial Affairs, Human Resources, Information Technologies, Student and Campus Life, University Relations, and many more.
Global Cornell Portfolio
Officially launched in 2016, the Cornell China Center builds on a century of in-depth engagement between Cornell University and China. The center is dedicated to supporting world-class research, education, collaboration, and entrepreneurship across diverse communities in Cornell and China. With activities across a wide range of topics, the center serves as a dynamic hub for Cornell in China, creating a coherent "One Cornell" presence and experience in China.
---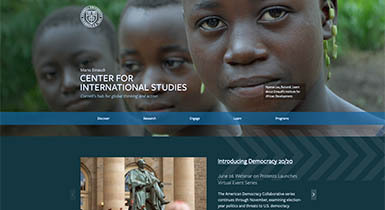 The center organizes, stimulates and, supports research, teaching, and outreach programs and activities to enhance graduate and undergraduate education, and to prepare Cornellians to contribute in the international sphere. The Einaudi Center includes area studies programs for Africa, East Asia, South Asia, Southeast Asia, Latin America, and Europe, as well as thematic programs in peace and conflict studies, and Muslim history and society.
---
The goal of Global Operations is to provide faculty, staff, and students with the resources needed for them to be confident in research, teaching, and engagement overseas. A cross-functional team provides the Cornell community with a high level of customer service and holistic solutions for operations abroad. They support and enable international projects, travel, and operations; and help to mitigate risks to the university and individuals.
---
The institute, new in 2019, fosters dialog about contemporary world issues, expands the influence of Cornell's scholarship and opens new opportunities for students. It builds connections among stakeholders in domestic and global politics, including political leaders, policy think tanks, the business community, international civil society, and academia. The institute illustrates President Martha Pollack's "One Cornell" vision for developing opportunities that build on and benefit from the complementary strengths of the university's vibrant campuses in Ithaca, New York City, and Washington, DC.
---
We define migrations and the movement of people, plants, animals, and microbes. The world is increasingly on the move. This presents significant challenges and opportunities, both of which we seek to explore, understand, and address by bringing together faculty and students from the many disciplines and fields in which migration is currently studied. 
---
The Office of Global Learning serves all of Cornell's global learners. The office includes Education Abroad, with programs for students who want to study abroad, and International Services, which focuses on the needs of international students and scholars at Cornell.
---