Call for Submissions: Race and Racism Across Borders

Students and Alumni: Share Your Global Stories, Local Experiences
Race and racism are experienced in different ways across countries, regions, and peoples. Crossing borders—whether by traveling away from home or encountering new people where we live—can confirm or upend our viewpoints on race, racial stereotypes, and racism. Talking to people from other parts of the globe sheds light on both the particular and shared elements of our experiences and understandings of race and racism.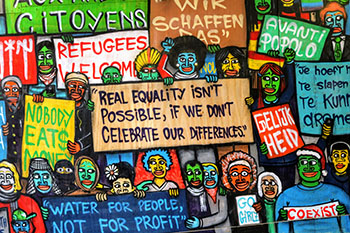 We invite you to submit short essays, poems, or visual art reflecting on your personal experience. Describe a time you crossed a literal or figurative border—across the world or closer to home—and understood something new about race or ethnicity, racism, racial dynamics, and your own place in the world.
Eligibility and Awards
Cornell undergraduates, graduate/professional students, and alumni are eligible to participate. A Global Cornell committee will identify a group of submissions representing a range of voices and global experiences, creative approaches to the prompt, and effective storytelling whether through prose, poetry, or visual art.
Selected submissions will receive an honorarium of $100 and be published on Global Cornell websites and social media channels. Selected contributors will be invited to participate on thematic panels hosted by the Mario Einaudi Center for International Studies, with faculty who work in different regions around the world.
Length: Up to 500 Words
Submissions are limited to one per person. Prose or poetry has a maximum length of 500 words and can be accompanied by a related photograph. Submissions may also be visual art, including digital media, drawing, painting, photography, or sculpture, submitted as an electronic image with a descriptive caption.
Deadline: November 9
Submissions are due Monday, November 9, at midnight EDT.