Surgical Mask-sewing Effort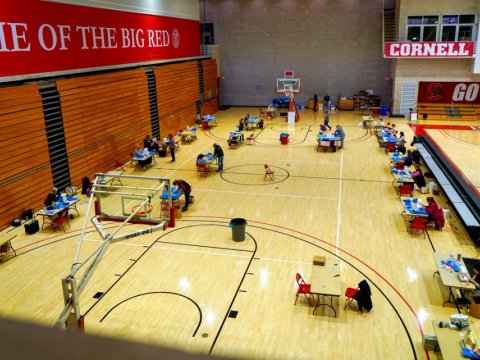 A basketball court in Bartels Hall stirred to life with a new, urgent mission and two dozen volunteers. Beginning early Tuesday morning, stationed at sewing machines on tables spaced apart to observe safe social distancing guidelines, community members launched a coordinated sewing effort to produce surgical masks for Cayuga Medical Center in Ithaca. The hospital, like many others across the country, is facing looming shortages of personal protective equipment (PPE). Carol O'Driscoll, director of surgical services for CMC, said hospital officials had been aware for a while that a long-term shortage of medical supplies was likely as the coronavirus spread, especially since many of the needed supplies are manufactured in China. 
O'Driscoll said she had what her kids are calling her "Scarlett O'Hara moment"—referring to the Gone With the Wind character's crafting a gown out of draperies—when she was walking in a hospital hallway and saw the bags of upcycled surgical instrument "blue wrap" that a CMC program had been turning into blankets for the homeless in Ithaca. "I thought, if we can sew blankets, we can sew masks," she said.