Saurabh Mehta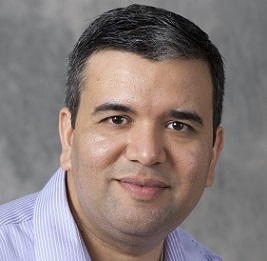 "My research focuses on improving population health through early detection, diagnosis, and intervention—particularly for infectious diseases."
International Faculty Fellow Saurabh Mehta, MD, is an associate professor of nutritional science in Cornell's College of Human Ecology. He is also a faculty fellow at Cornell's Atkinson Center for a Sustainable Future.
Mehta received his medical degree from the All-India Institute of Medical Sciences in New Delhi, India, and a doctor of science degree in epidemiology and nutrition from Harvard University. He conducted post-doctoral research in nutritional epidemiology at the Harvard School of Public Health. Dr. Mehta has more than 10 years of experience in working in resource-limited settings in the areas of infectious diseases, particularly HIV and tuberculosis; epidemiology; and nutrition. 
The Mehta research group broadly works in the areas of infectious diseases (particularly HIV, tuberculosis, and neglected tropical diseases) and maternal and child health. The group focuses on the role of micronutrients in modulation of the immune response, perinatal health, and application of novel diagnostics and analytic methodologies to advance clinical care in resource-limited settings in India, Sub-Saharan Africa, and Latin America.
Mehta's research highlights the potential role of vitamin D in slowing disease progression and disease severity for both HIV and tuberculosis. He published the first longitudinal studies demonstrating an association between vitamin D and HIV in sub-Saharan Africa. In recent work, he has shown how vitamin D status is tied to the risk of relapse in patients with tuberculosis. His research suggests that vitamin D supplements could serve as an inexpensive adjunct to conventional treatment of these diseases, including reducing HIV disease progression and risk of HIV-related morbidities for the first time.
His research interest also extends to examining sustainable means of modifying nutritional status, such as biofortification, to achieve higher concentrations of micronutrients in staple crops through non-GMO approaches. Mehta is the principal investigator of a randomized controlled trial of biofortified pearl millet, which is high in iron and zinc, to examine the effects of its consumption on growth and immune and cognitive function among 700 infants in India.
Along with David Erickson, Mehta is co-inventor of the NutriPhone, which can measure vitamin D status from a single drop of blood. The researchers are planning to build on the technology to detect other nutritional biomarkers such as vitamin A and iron. They also are applying the technology to develop the FeverPhone, with a $2.3 million grant from the National Institutes of Health, a device that will diagnose six febrile diseases in the field: dengue, malaria, chikungunya, typhoid fever, leptospirosis, and Chagas' disease..
Such devices can massively improve health services in poorer settings. Most primary health care centers in developing countries don't have access to sophisticated laboratory setups and trained personnel, Mehta says. Equipping such health care centers with smartphone-based devices, which can be easily used and interpreted by a health worker, can immediately upgrade the quality of service and access for the thousands of individuals served by each center.
"Since joining Cornell, I have built strong interdisciplinary connections with faculty in engineering, agriculture and life sciences, veterinary medicine, and medicine," says Mehta. "The International Faculty Fellowship has afforded me access to the faculty and staff who are instrumental to Cornell's international operations, and my interactions with these individuals are the most enriching part of my fellowship experience."
As part of his fellowship activities, Mehta has hosted a presentation on building a research program in India through the Einaudi Center's South Asia Program, and a seminar on his current research activities. He also developed a workshop on the theme of how international research programs can benefit from and be strengthened by the multidisciplinary approaches that are a natural asset of Cornell.
"We live in an increasingly connected and globalized world. Today's careers, regardless of discipline, can be anywhere," Mehta says. "A meaningful international experience as part of a Cornell education gives our students invaluable knowledge. The need to connect with other people, regardless of their backgrounds, understand them, work with them, and create meaningful partnerships are invaluable lessons learned through international experiences—lessons which often cannot be replicated by domestic assignments."