Ecological Calendars: The Research Team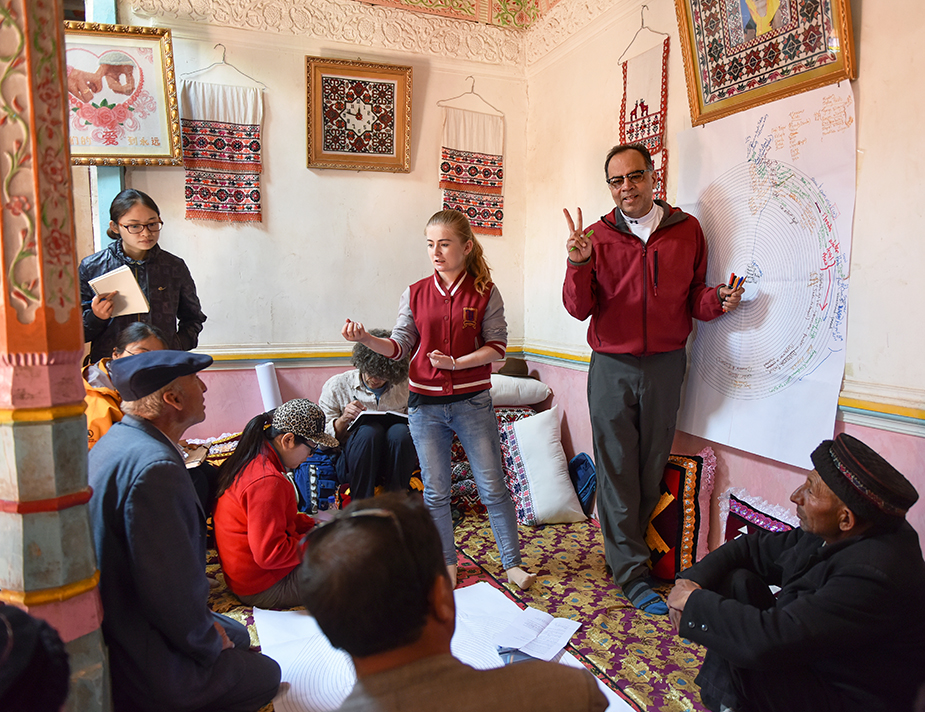 Karim-Aly Kassam (standing, right) and students from the Chinese research team develop a seasonal round with villagers from Post Doct, Xinjiang, China.
---
The research project, Ecological Calendars and Climate Change Adaptation in Central Asia, is being conducted by a global group of research scientists.
---
Multidisciplinary Research Team
The large-scale complex Ecological Calendars project includes teams of biophysical and social scientists.
Central Asia Sites
Karim-Aly Kassam, Cornell University, USA (lead principal investigator)
Jianchu Xu, Kunming Institute of Botany, Chinese Academy of Sciences, China (partner principal investigator)
Cyrus Samimi, University of Bayreuth, Germany (partner principal investigator), and student research assistants
Antonio Trabucco, Euro-Mediterranean Center on Climate Change, Italy (partner principal investigator), and student research assistants
Talia Chorover, Leo Louis, and Kayla Scheimreif, Cornell University (graduate research assistants)
North America Sites
Karim-Aly Kassam, Cornell University, USA (lead principal investigator)
Christopher Dunn, Cornell Botanical Gardens (co-principal investigator)
Amanda Rodewald, Cornell Laboratory of Ornithology (co-principal investigator)
David Wolfe, Cornell Plant Sciences and Horticulture (co-principal investigator)
Arthur Degaetano, Cornell Earth and Atmospheric Sciences (co-principal investigator)
Morgan Ruelle, Cornell Natural Resources (post-doctoral associate)
Tamar Law, Madeline Rich, Cornell University (undergraduate interns)
Civil Society Partners
The research team needs the collaboration of a variety of organizations:
AgWeatherNet (Washington State University)
American Geophysical Union (Washington, D.C.)
Cornell Biological Field Station at Shackleton Point on Oneida Lake (New York)
Deutsche Gessellschaft für Internationale Zusammenarbait (GIZ) (Germany)
FOCUS Humanitarian Assistance (Tajikistan)
International Centre for Integrated Mountain Development (Nepal)
International Society of Biometeorology/Phenology Commission (University of Wisconsin–Milwaukee)
International Union for Conservation of Nature (Switzerland)
UNESCO Man and the Biosphere Programme (France)
Mountain Research Initiative (Switzerland)
U.S. Department of the Interior Climate Science Centers (Virginia headquarters)
U.S.A. National Phenology Network (Arizona)
Wakhan Pamir Research Project at Ca' Foscari University of Venice (Italy)
World Agroforestry Centre (Kenya headquarters)
Funding Support
Research in Central Asia
Belmont Forum through its partnership with the National Science Foundation (U.S.A.)
National Science Foundation (China)
Consiglio Nazionale delle Ricerche (Italy)
Deutsche Forschungsgemeinschaft (Germany)
Research in North America
Academic Venture Fund, David R. Atkinson Center for a Sustainable Future at Cornell University (New York)