Andrea Bachner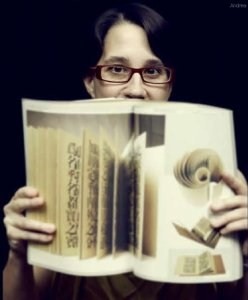 "I see my courses as a kind of education in international work, rather than as a specific class with comparative literature content."
International Faculty Fellow Andrea Bachner is an assistant professor of comparative literature in Cornell's College of Arts and Sciences. She is author of Beyond Sinology: Chinese Writing and the Scripts of Cultures (Columbia University Press, 2014), and co-editor with Carlos Rojas of the Oxford Handbook of Modern Chinese Literatures (Oxford University Press, 2016).
As a scholar of comparative literature, intercultural and interdisciplinary work is at the core of what she does. Her linguistic expertise in Chinese (both modern Mandarin and classical Chinese), Spanish, German, and French (she also reads Italian, Portuguese, and Catalan fluently), as well as knowledge of these cultural traditions, allows her to take up the intercultural challenge of the discipline of comparative literature and to be in dialogue with different cultures across the globe.
"I am particularly interested in how culture and cultural differences are represented and negotiated in different contexts and media, how cultural identity is imagined and expressed in literature, film, art, and popular culture, and how such representations can help combat cultural stereotypes and champion intercultural tolerance," she says.
The International Faculty Fellowship motivates her to think beyond her own discipline and to conceive of teaching as an introduction to interculturality and internationally oriented perspectives.
"The program's very generous research grant has made it possible for me to envision my future work in even more intercultural and international directions," she says." I would like to find ways of making my own courses visible to and relevant for students from across the disciplines, to allow them to see my courses as a kind of education in intercultural literacy, not just a comparative literature class."
The Fellowship has created opportunities for Bachner to become acquainted with the different programs of the Einaudi Center and to start networking with other faculty across different departments and colleges whose research is also international in scope. She has collaborated with Pedro Erber from Romance Studies: co-editing a special issue of the journal Verge, co-teaching a class, and organizing a roundtable at the Global Asias conference at Pennsylvania State University. She hopes to organize a workshop on new approaches to transpacific studies, bringing together Cornell faculty and presenters from other institutions.
Bachner believes that only through international study can students become informed global citizens.
"Global citizenship implies an understanding of the relativity of one's own cultural context and assumptions and a keen interest in and sensitivity to other perspectives," she says. "A deep understanding of cultural differences—of the multiplicity of cultures and perspectives—makes us aware of the rich diversity of our own cultures and leads to more tolerant and compassionate attitudes toward others."