Students Create Site to Foster Connections During Quarantine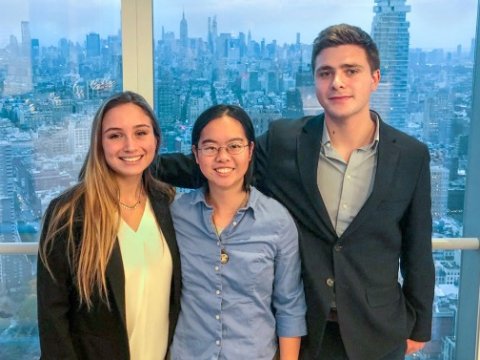 A college student at home alone while his mom worked in a hospital made a new friend–a 77-year-old widow also stuck at home. A guitar player met another player and songwriter, and they spent time singing and composing together through Zoom. These four people are a few of the more than 600 who have signed up to connect with others on Quarantine Buddy, a website founded by a trio of Cornell students. "We wanted to channel the stress and uncertainty of this time into something that could benefit people," said Jordyn Goldzweig '21 (CALS), who founded the company with Sam Brickman '21 (CALS) and Alisa Lai '22 (ENG).
"We saw all of these people posting about how lonely they were and how they wanted to connect," Brickman said. "So we started talking to people, from college students up to people in their late 70s, who said they wish they had an outlet for human interaction." When someone logs on to Quarantine Buddy, they answer a few questions about what they've been doing during this period of social distancing and what kind of connections they would like to make. The site uses an algorithm that identifies diversity and differences, so people can connect with others from a different part of the world, from a different culture or with new interests and insights.
Image: Jordyn Goldzweig '21, Alisa Lai '22 and Sam Brickman '21 at an eLab event in New York City in September 2019. Provided
Read the full story by Kathy Hovis, Cornell Chronicle