Research interrupted: Lab groups find their way together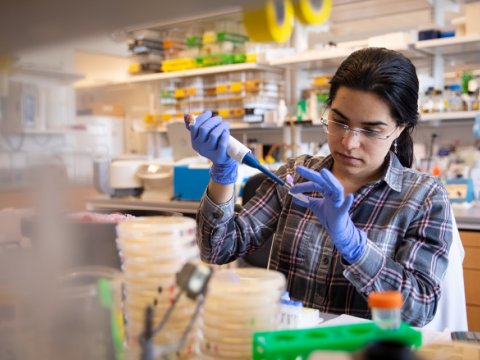 When Mariana Wolfner, a Cornell geneticist and molecular biologist, learned on March 15 she needed to suspend all noncritical research as part of the university's effort to stem the coronavirus outbreak, she had two main concerns. The first was how best to help her students." Everyone is just stunned ... obviously because of the coronavirus, but also because of their research suddenly stopping or slowing down," said Wolfner, the Goldwin Smith Professor of Molecular Biology and Genetics in the College of Arts and Sciences (A&S). She has emphasized staying in contact with her lab virtually, to create a sense of community and support."
The other thing that's been hard has been trying to figure out what to shut down without forgetting something critical to maintaining," said Wolfner, a Stephen H. Weiss Presidential Fellow. She and other researchers on campus have found that people are making extra efforts to help each other." Everyone is working together, pitching in to find solutions to problems as they arise," said Scott Emr, the Frank Rhodes Professor of Molecular Biology and Genetics in A&S and director of the Weill Institute for Cell and Molecular Biology. "The atmosphere in the lab is very collegial and supportive."
Read the full story by Krishna Ramanujan in the Cornell Chronicle