Partnership Feeds Area Families Amid Coronavirus Woes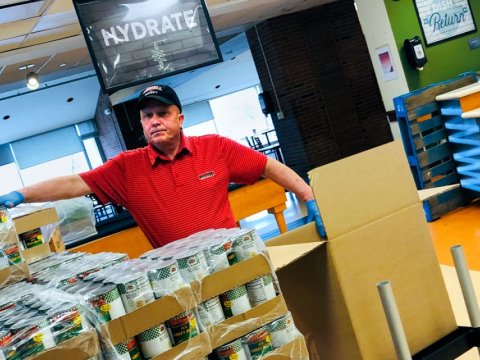 The coronavirus pandemic has had an obvious impact on families, schools, businesses and health care providers. Less obvious, perhaps, is how it has affected community volunteers and the organizations they serve. Many volunteers are elderly and have been sidelined by the virus, forcing the temporary shuttering of several food pantries in Tompkins County. As a result, approximately 800 households per month may lose food pantry services. To provide immediate local relief, Cornell has partnered with the Food Bank of the Southern Tier and the Greater Ithaca Activities Center (GIAC) to collect and distribute much-needed meals for food-insecure families.
The effort officially launches March 31 from 1–4 p.m. at GIAC and will continue every Tuesday and Thursday during those hours. The organizers plan to provide food packages—each containing a three-day supply for a family of four—to 200 families on Tuesday, and another 200 on Thursday.
Like other food pantries in the region, Cornell Dining places weekly orders with the food bank to stock the campus pantry. Now, it is placing much larger orders—15,000 to 17,000 pounds of food per order, up from 2,000 to 3,000 pounds—that are shipped to Robert Purcell Community Center, where Cornell Dining staff offload and repack perishable and nonperishable food items. University staff will distribute these meals at the basketball court at GIAC in downtown Ithaca.
Read the full story by David Nutt, Cornell Chronicle