Cornellians Help Keep Loaves and Fishes Going During Pandemic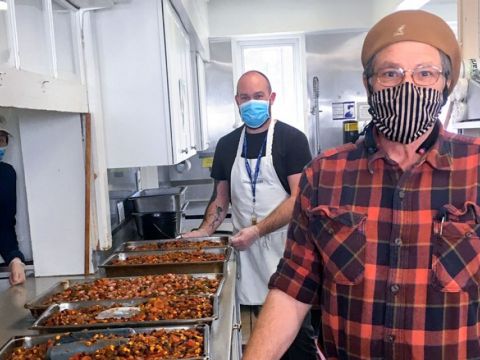 By March 13, it seemed clear that the COVID-19 pandemic would force Loaves and Fishes of Tompkins County to shut its doors to the public. Thanks to careful planning, three days later the community kitchen had ramped up to continue its free meal service to the needy–now packaged to go. Within a month, the number of meals provided had more than doubled, from 450 to almost 1,100 per week. "We will serve meals from the front yard of our home at St. John's Church for as long as necessary to ensure the most vulnerable members of our community do not go hungry in these unprecedented times," says Katy Noonan '81, Loaves and Fishes' community relations manager. Using strict preparation and social distancing protocols, operations manager and chef Isaiah Parker '03 leads a small group of mask-clad staff and volunteers–many of them Cornellians–each weekday to prepare fresh, nutritious meals. And when some people could not pick up meals, Loaves and Fishes forged new partnerships to deliver meals.
Typically, Loaves & Fishes hosts100 Cornell undergraduate and graduate-student volunteers and 20 student groups every semester; that translates into more than 1,000 alumni over the past three decades who have ties to the organization. Many staff, faculty, and retirees regularly volunteer, too. 
Image: Keith Payne, right, a research technician in plant breeding and genetics, Isaiah Parker '03, center, and Gabriel Lee, doctoral student in theoretical physics, prepare lunch at Loaves & Fishes. Parker is the organization's chef and operations manager. Provided
Read the full story by Susan Lang '72, Cornell Chronicle