Cornell Tech Provides CS Lessons for Kids at Home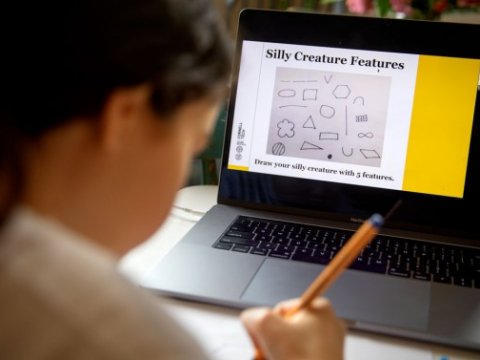 "This is our first-ever CS at Home broadcast," Diane Levitt, senior director of K-12 education at Cornell Tech, told a class of third graders from Public School 86 in the Bronx on March 26 via Zoom. "Thank you for being part of our experiment. We have never done this before. So, it's good to do it with friends." Levitt, with other members of her K-12 team, were piloting a new virtual lesson plan intended to help New York City teachers instruct their students remotely in computational thinking. The virtual lessons—as well as daily computational challenges posted on Twitter under the handle @Breakfast_CS—are part of their efforts to continue promoting computer science education for all children, even as the city, and the world, tackle unprecedented challenges.
In all of their lessons – formerly in-person and now virtual – Levitt's team aims to give students tools to think computationally. The slides used in the Zoom call will be shared with the New York City Department of Education as a resource for teachers; the team also will continue posting a daily challenge on Twitter, offering kids an "unplugged" task, such as hiding an object in their homes and drawing a map to it or playing tic-tac-toe games in order to identify whether they can use logic to predict the outcome.
Image: Cornell Tech's K-12 education team has created an online lesson about algorithms and debugging. Lindsay France/Cornell University
Read the full story by Melanie Lefkowitz, Cornell Chronicle