Cornell Supports Local Small Business COVID-19 Fund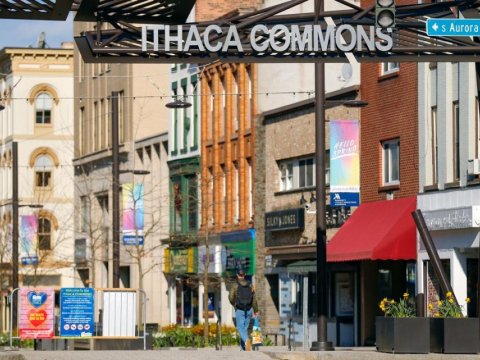 Cornell University has made a $100,000 contribution to help establish a Tompkins County/City of Ithaca COVID-19 Small Business Resiliency Fund to support and stabilize local small businesses impacted by the coronavirus pandemic. Created by a team of community partners and local economic development agencies, the fund launched with $390,000 that will be used to rapidly provide up to $5,000 in emergency relief per business in forgivable microloans to help owners retain their businesses and employees during the closures forced by the ongoing COVID-19 crisis.
"Ithaca is one of the best small cities in America, in part because of its beauty, diversity and strong community spirit," said Cornell President Martha E. Pollack. "Our small businesses are the backbone of our local life, drawing people to Ithaca from around the region, and serving as employers and economic drivers, as well as contributors to the common good. Cornell University is pleased to support the Small Business Resiliency Fund, and we stand united with all who are working to help to address our community's pressing needs in this challenging time." The other local partners are the Tompkins County Development Corp., Ithaca Urban Renewal Agency, the city of Ithaca, Tompkins County Area Development, the Tompkins County Chamber of Commerce, the Downtown Ithaca Alliance and the Tompkins County Workforce Investment Board.
Image: The Ithaca Commons. John Munson/Cornell University
Read the full story by Joe Wilensky, Cornell Chronicle