Cornell Staff Act to 'Stay Nimble, Resilient'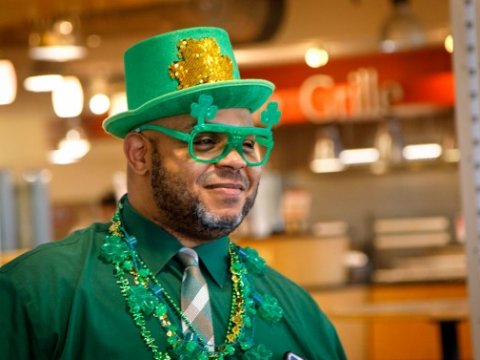 Marcus Goines, the manager of North Star dining hall, provides a little cheer on March 17 to students at lunchtime.
As the Cornell campus responds to the global pandemic, North Star dining hall manager Marcus Goines brought a hint of cheer on March 17: He dressed to celebrate St. Patrick's Day. "It's a sad time, but we need joy," Goines said. "I do it for the students. I do it for the staff. It's about putting a smile on somebody's face, especially since we're all going through a hard time right now. North Star normally serves about 2,200 meals daily. Now, the dining hall is quiet and serves take-out meals only.
"Staff have feelings and concerns, and we want to make sure that we are addressing those concerns, on a minute-by-minute and hour-by-hour basis," he said. "I'm answering every question, as I'm getting a lot of information from senior management and we're cascading those messages out to everyone. I'm making sure we don't leave anything out," he said. "We want everyone to be comfortable in this trying time."
Read the full story by Blaine Friedlander in the Cornell Chronicle