Cornell Dairy Helps Replenish Local Milk Stock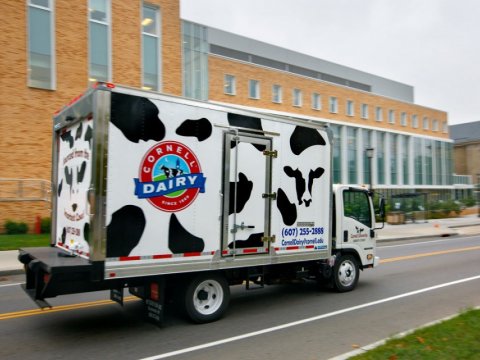 Allan Malek, manager of the East Hill Plaza store, wrote a quick email on March 14 to the Cornell Dairy Processing Plant, inquiring if it had any fluid milk and other dairy products the store could sell, alleviating some of the retailer's shortages. Within days, dairy plant manager Tim Barnard had delivered three truckloads of milk to the store, along with yogurt, butter, ice cream, and cheese. Everything sold, and Barnard expects to deliver two more truckloads by this weekend.
"We had product in the store early that week," said Greg Young, co-owner of P&C Fresh. "It was a very quick turnaround on Cornell's part to help us out. It was very appreciated by us—and by our customers—to help fill the void." During a normal semester, the Cornell Dairy processes about 3,000 gallons of milk each week, produced by the 200-cow herd at the Teaching Dairy Barn, which is managed by the College of Veterinary Medicine. Barnard said that the Dairy Plant will continue to process fluid milk, even during the coronavirus situation, as the cows must be milked daily. He said he was pleased to help the store.
Read the full story by Blaine Friedlander, Cornell Chronicle