2017 Grants: Internationalizing the Cornell Curriculum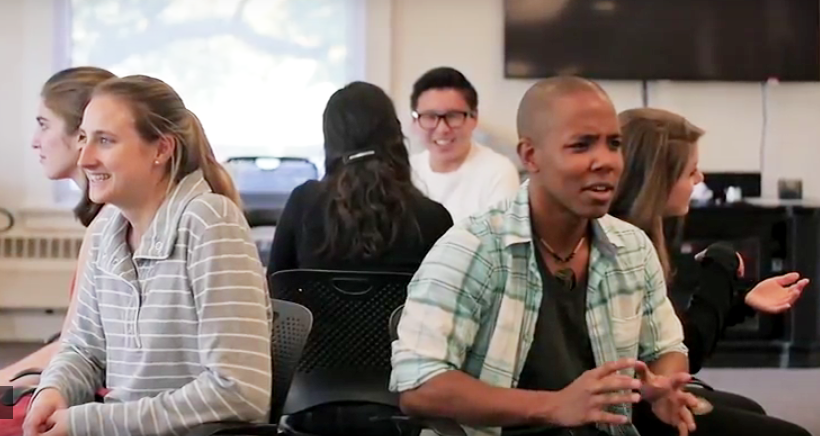 "This year we funded projects that are developing internationalization initiatives on-campus," says David R. Lee, provost's fellow for internationalization and International Professor in the Dyson School of Applied Economics and Management in the College of Agriculture and Life Sciences and College of Business. "These global-at-home opportunities offer students a breadth of cultures and languages, and expand their exposure to, and familiarity with, global issues and diverse international perspectives."
The 2017 grants support development of these global-at-home courses:
Expanding the global reach of microbiome-based research through an undergraduate-organized international workshop
Ilana Brito, assistant professor and Mong Family Sesquicentennial Faculty Fellow in Biomedical Engineering in the College of Engineering
Development of an extracurricular summer program that will involve undergraduates in development and implementation of a Cornell Global Health and Microbiome Workshop on the Ithaca campus.

Linguistics for the global citizen, foundations and tools
Abigail C. Cohn, professor of linguistics in the College of Arts and Sciences
Development of a new 1000-level course in linguistics, Insights into Language and Culture: Tools for the Global Learner, and a mini-workshop on linguistic tools for study abroad, as part of the Cornell Abroad pre-departure orientation.
Migration in the Americas: A Global-at-Home Course Sequence Focusing on Latin American Migrant Workers in Upstate New York
Maria Lorena Cook, professor of international and comparative labor in the School of Industrial and Labor Relations
Development of a new course for fall 2017: Migration in the Americas: Engaged Research Methods and Practice (ILRIC/LSP/DSOC 4312/6312), an interdisciplinary course anchored in three colleges, which will combine course work and research experiences with both local and international collaborators.
Pioneering an Interdisciplinary Study Abroad Trip: Wine Culture in Rome and Naples
Michael Fontaine, associate professor of classics in the College of Arts and Sciences
Development of an interdisciplinary study abroad trip about the importance of wine in ancient and modern cultures, including its impact on art and literature, to be offered beginning in spring 2018 as part of the course Wine Culture (VIEN/CLASS 2810).
Internationalizing the Intergroup Dialogue Curriculum
Adi Grabiner Keinan, lecturer and director of the Intergroup Dialogue Project in the Office of Academic Diversity Initiatives
Development of new section for the Intergroup Dialogue Project (EDUC 2610) to incorporate global experiences and perspectives, providing students with content beyond a U.S.-centric framework.
Global Engaged Learning through MOOC Undergraduate Teaching Assistantships
Marianne Krasny, professor of natural resources and director of the Civic Ecology Lab in the College of Agriculture and Life Sciences
Development of a three-credit course for undergraduates through which they will receive training in multicultural perspectives in an online learning environment, adult learning, online learning pedagogy, and digital media for educational purposes, followed by the opportunity to serve as MOOC teaching assistant in environmental education courses for professionals offered through the Cornell Civic Ecology Lab.
Restructuring the Global Scholars Program
Sarosh Kuruvilla, the Andrew J. Nathanson Family Professor in Industrial and Labor Relations in the School of Industrial and Labor Relations
Evaluation of existing Global Scholars Program, and development of an expanded reach and a rigorous capstone course for participants.
The Global Food, Energy, and Water Nexus—Engaging Students from the United States, China and India to Chart a Sustainable Future
Xingen Lei, professor of animal science in the College of Agriculture and Life Sciences and a faculty fellow at the David Atkinson Center for a Sustainable Future
Development of an interdisciplinary course in collaboration with two leading agricultural universities in China and one premier social sciences university in India.
Spain in/from America: Cultural Engagements in Historical and Local Perspectives
Simone Pinet, professor of Spanish literature in the College of Arts and Sciences
​Development of additional content for Perspectives on Spain (SPAN 2230) to provide students with opportunities for hands-on experience with Spanish cultures through cross-cultural dialogue with Spanish scholars, artists, archivists and activists.
The Intersection of Local Schools, Community Development and Policy: U.S., Irish and Scottish Cases
John Sipple, associate professor of development sociology in the College of Agriculture and Life Sciences and a core faculty member in the Cornell Institute for Public Affairs in the College of Human Ecology
Development of an applied course (Schools, Community Development and Policy Reform, DSOC 4710) to engage students in a comparative analysis of the relationship between schools, communities and policy in two countries—Ireland and Scotland—that are facing economic and demographic changes quite similar to those in Upstate New York.