2016 Grants: Internationalizing the Cornell Curriculum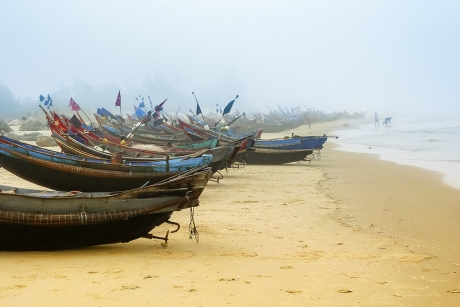 Internationalizing the Cornell Curriculum grants encourage the creativity and innovation of Cornell faculty in a way that benefits students.
The 2016 grants support development of these course programs:
Global Citizenship and Sustainability: Service-Learning and Community-Based Research in Borneo
Recipients: Shorna Allred, Natural Resources; Amy Kuo Somchanhmavong, Public Service Center
The program teaches students about resilience and sustainable development in remote indigenous communities in tropical rainforests vulnerable to climate change. In 2016, students from Cornell and Universiti Malaysia Sarawak will collaborate with community partners to focus on the drivers of energy development, ICT access, and tourism, and the threats of deforestation and indigenous knowledge loss. They will identify ways to avert the most serious threats and strengthen community resilience.
Understanding the History of Global Capitalism through One Community 
Recipient: Edward E. Baptist, History 
This project focuses on the intellectual deepening and long-term sustainability of a course that takes Cornell students to Petersfield, a community in the sugarcane belt of Westmoreland Parish, Jamaica, where they work with a community-development organization. The students conduct primary historical research, while providing a service to the community by conducting oral history interviews with local residents. This work will enhance the cross-cultural understanding that the students experience through homestays, community meetings and events, and visits with local schoolchildren.
Undergraduate Minor in Viking Studies 
Recipients: Oren Falk, History and PhD Program in Medieval Studies; Thomas D. Hill, English and PhD Program in Medieval Studies
The new, interdisciplinary undergraduate minor will provide students a coherent framework for grounding literary, historical, and linguistic knowledge of medieval Scandinavia to comprehend the Viking Age and Viking Diaspora from a comparative perspective. Students will engage in analyses of the significance of changes over time and across space, and differing interpretations of the past. Students will gain international experience through language study, exposure to the literature and history of the Norse zone, and study abroad.
Documenting the Impact of Active Immersion on Intercultural Learning in Cornell-in-Seville
Recipient: Davydd J. Greenwood, Goldwin Smith Professor Emeritus of Anthropology 
​The CASA-Seville curriculum was modified recently with active pedagogy and 360-degree mentoring to treat students as reflective authors of their own intercultural learning. By completing a Common Framework for Language, Society, and Culture, and conducting a longitudinal survey of students to assess program impacts, the project will generate findings useful for configuring programs for active cultural immersion, enhancing educational outcomes, and evaluating life impacts.
Global Health Case Studies by Weill Cornell Medicine Faculty
Recipients: Gunisha Kaur, Anesthesiology, Weill Cornell Medicine;  Eric Brumberger, Anesthesiology, Weill Cornell Medicine; Zhenglong Gu, Nutritional Science
Students in this new course will be paired with a Weill Cornell Medicine physician mentor to pursue research during a summer internship. Case studies will be shared by faculty who are experienced international authorities on health in the developing world. Students will gain an understanding of biosocial factors that impact health, social theories on global health, and the international humanitarian architecture—and be equipped to effectively and responsibly engage with the developing world.
Global Women: Domestics, Care Workers, and Workers' Rights in the Global Economy
Recipients: Lori Leonard, Development Sociology; KC Wagner, Workplace Issues, ILR Metro
In adding an internationalizing component to the course Gender and Global Change, this project will provide students with first-hand exposure to the global policy-making efforts of UN Women. In partnership with the Cornell Worker Institute in New York City and selected community-based organizations that support immigrant domestics and care workers, students will conduct research projects that will help them develop intercultural skills and applied research experience.
Music in and of Contemporary East Asia
Recipients: Christopher J. Miller, Music
This new course will examine traditional musics of East Asia as well as the broader range of musics practiced in East Asia, many of which derive from the West. The course will serve as a general introduction to the cultures and modern history of East Asia. The course will create an interface between the Department of Music and three student-run East Asian Music ensembles—Yamatai, Shimtah, and the Cornell Eastern Music Ensemble.
An ILR Engaged-Learning Program Focusing on Small-Business Development and Job Creation in Nicaragua
Recipients: Lisa H. Nishii, Human Resource Studies; Donna Ramil, ILR International Programs
This project will enhance the cross-cultural and management-related behavioral competencies of undergraduate ILR students through international service learning. After traveling to Nicaragua to understand the cultural context, ILR students will create workshop training modules in human resource management for Thriive, a nonprofit organization in Nicaragua that promotes small business development and job creation.
An Anthropology Curriculum for Teaching lntercultural Engagement
Recipients: Adam T. Smith, Anthropology; Stacey Langwick, Viranjini Munasinghe, and Sofia Villenas, Anthropology; Elliot Shapiro and Darlene Evans, John S. Knight Institute 
Three innovative co-meeting courses will be developed as gateways to global learning, leveraging anthropology skills in fieldwork alongside the Knight lnstitute's expertise in writing. Students will gain the ability to foster collaborative relationships across multiple lines of difference. The project design encourages peer mentoring. Learning outcomes will center on developing intercultural competence, enhancing integrative learning skills, and providing strategies for understanding through critical reflection.
Expanding Academic Pathways into the Global Health Program in the Dominican Republic
Recipients: Rebecca Stoltzfus and Jeanne Moseley, Nutritional Sciences
The project will expand the scope and impact of the Global Health Summer Program in the Dominican Republic through action-research projects on community-led themes. Students will co-design and advance community action plans to tackle a topic of shared interest for the Simon Bolivar neighborhood (educational programming on natural healing and medicinal plants, gender and sexuality, elimination of violence against women and children, healthy living through exercise and sport).
Molecular Diagnostics: From Lab to Viñedo
Recipients: Jeremy R. Thompson, Plant Pathology
This course will offer a theoretical and practical introduction to the main molecular diagnostic methods employed by researchers today through a focus on grapevine diseases in the Chilean Valle Central. Three weeks of coursework at Cornell will prepare students to interact with host students and families, faculty, researchers, and growers during a two-week lab and field experience during winter break. Students also will gain a broad worldview and greater confidence to speak, work, and study in a foreign language.
Climate-Change Awareness and Service Learning in the Mekong Delta
Recipients: Thúy Tranviet, Asian Studies; Michael Hoffmann, Cornell Institute for Climate Change and Agriculture, Entomology
This seminar and service-learning course will provide students classroom instruction and experiential learning while studying the impacts of climate change in the Mekong Delta in Vietnam. Before travel, students will study Vietnamese, international development, and climate change, focusing on the problems facing the Mekong Delta. In Vietnam over winter break, students will attend lectures given by Can Tho University experts and engage with local government agencies, residents, and farmers to gain knowledge and assess beliefs and perceptions of climate change.