Navigate: A Resource for Faculty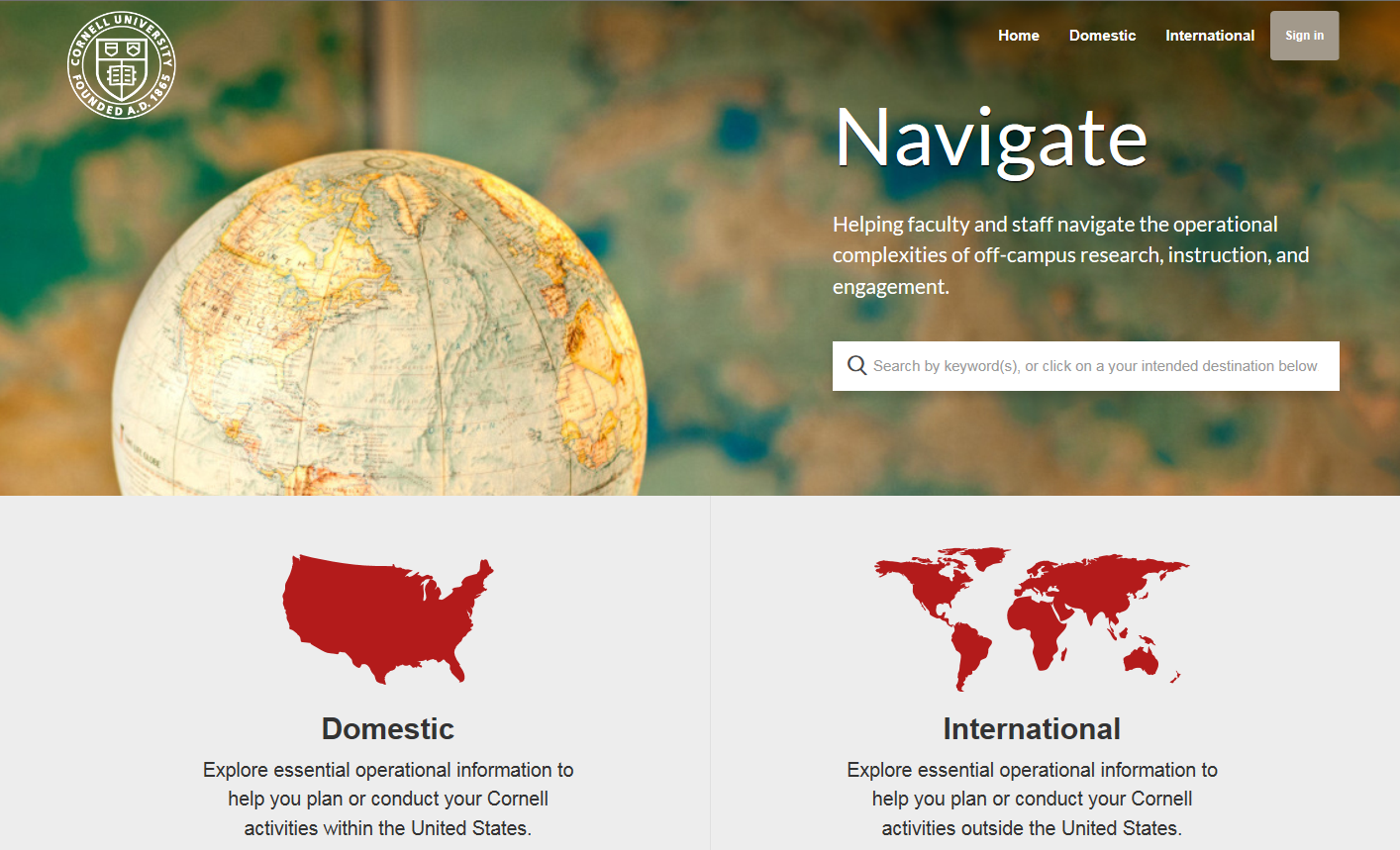 Navigate is a new Cornell website designed to save time and reduce stress in handling the operational complexities of off-campus teaching, research, and engagement.
A faculty member in Plant Sciences wants to know: "What healthcare issues do we need to be aware of in planning to go to Bogota for a two-week winter break field session related to the course I'm teaching? Do we need any vaccines?"
A team of Global Health faculty from Human Ecology and Weill Cornell Medicine is planning an engaged learning trip during summer break to an Indian Health Services center in Arizona for a dozen students. They will fly to Phoenix and then rent and drive vans to the remote site, and they have a partner on the ground that has found suitable accommodations for the group, but they have questions about the best way to handle payments for the six-week trip.
An administrative manager is supporting an Engineering faculty member preparing for his first trip to China as part of a new research partnership has a list of questions about computer use in Beijing: "Will I be able to access my college's shared server when I'm in China, or do I need to take my files with me? And what's the best way to handle sending material back to my colleagues on campus?"
A senior extension associate is preparing for a service learning program with Cooperative Extension in Canandaigua County, New York. A Spanish translator will need to be hired locally to work with the students and local farmworkers. "I need to hire a short-term bilingual farmworker to support this program, but he doesn't have a bank account. How do I handle this?"
Such scenarios are common at Cornell, with faculty active in educational and research collaborations across the country and around the world. There are myriad configurations of possibilities and needs. Cornell looks for ways to support its faculty and staff so that they can find accurate and fast answers.
Meet "Navigate"—navigate.cornell.edu—a new Cornell website designed to save time and reduce stress in handling the operational complexities of off-campus work.
The website is intuitive and easy-to-navigate: it's built as a knowledge base, a centralized repository of necessary and useful information—legal, financial, human resources, and more—previously held in decentralized units across campus, now integrated in one streamlined resource.
An easy-to-search feature on the Navigate homepage helps faculty and their teams find the information they need to prepare for off-campus teaching, research, and engagement, domestic and international. As the site launches, information will include:
Planning checklists, by activity type
Banking, payments, and taxes
Export controls
Health and travel insurance
IT and computing
Risk management
HR and staffing
Procurement, payments, and vendor contracts
Content will grow in the coming months.
The Navigate project was a charge directed by three university leaders: Laura Spitz, vice provost for international affairs; Judy Appleton, vice provost; and Joanne DeStefano, executive vice president and chief financial officer.
"This website is a product of our mutual missions to align infrastructure in support of faculty," says Spitz. "We want our faculty to feel confident engaging off campus by providing easy access to the information they need to succeed."
The power behind the knowledge base comes from a team of administrators from across the university who collaborated to collect and organize the information for Cornell's users. These administrators represent several key stakeholder units: Global Cornell and Engaged Cornell, facilities and real estate, financial affairs, human resources, information technology, risk management, and university counsel, among others.