Teaching & Learning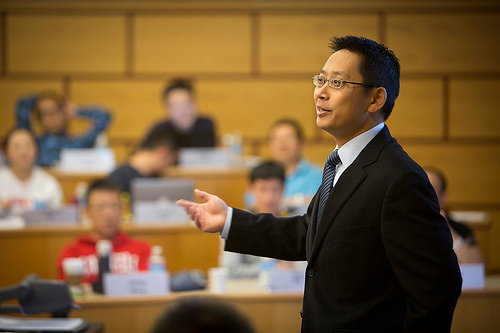 Cornell faculty collaborate with Chinese colleagues to teach courses for U.S. and Chinese students—in Ithaca and at universities in China.
Current Educational Programs
Chinese language and literature study at Cornell, College of Arts and Sciences: 36 language course offerings in Mandarin; 17 course offerings in Chinese literature.
Clinical opportunities in China for Weill Cornell medical students at Central South University's Xiangya School of Medicine in Changsha, in Hunan Province.
China and Asia-Pacific Studies, Cornell's College of Arts and Sciences and Peking University in Beijing, trains future leaders with 4 years of intensive Chinese language training and 2 semesters of internships in Washington D.C. and Beijing.
Comparative East Asian Studies, approved by seven Cornell colleges, is a three-campus program for Cornell students with University of Hong Kong; Keio University in Tokyo; and Yonsei University in Seoul, Korea.
Cornell Abroad administers semester- and academic year-study programs in China for Cornell students, in partnership with Cornell colleges and other U.S. universities and organizations.
Cornell Classical Chinese Colloquium, by the East Asia Program in Cornell's Mario Einaudi Center for International Studies, brings together students and scholars to read and discuss classical Chinese texts.

Expanding Horizons, an endowed program offered by the College of Veterinary Medicine, encourages Cornell veterinary students to plan and participate in international veterinary medical summer externships, including in China.

Student Multidisciplinary Applied Research Team Program, Cornell's College of Agriculture and Life Sciences, brings together teams of Cornell students and faculty from diverse disciplines to collaborate on food development projects at Hebei Qimei Agricultural Science and Technology Co. in Handan.

Summer School in Theory brings together humanities and arts faculty from universities across Asia for Visual Culture, Media Theory, Arts Practice. The venture is a collaboration between East China Normal University and Cornell's Society for the Humanities and Center for Comparative Humanities.
Cornell Dual-Degree Programs with Universities in China
2+2 Bachelor of Science Program, by Cornell's College of Agriculture and Life Sciences, with Shanghai College of Agriculture and Life Sciences, Jiao Tong University, China Agricultural University, Zhejiang University, Nanjing Agricultural University, and Northwest Agriculture and Forestry University, offers Chinese undergraduate students 2 years of study at the Chinese university, followed by 2 years of study at Cornell's College of Agriculture and Life Sciences. Students receive BS degrees from both Cornell and the participating Chinese university.
Cornell-Tsinghua MBA/FMBA is a part-time, post-experience dual-degree program conducted bilingually in English and Mandarin with PBC School of Finance at Tsinghua University. The Samuel Curtis Johnson Graduate School for Management is the first leading Ivy League business school to offer an MBA program in mainland China in a dual language format.
Dual Master of Management in Hospitality and Master of Business Administration degree is offered by Cornell's School of Hotel Administration in collaboration with the China Europe International Business School in Shanghai.
Exchange Programs with Chinese Institutions of Higher Education
Offered by many of Cornell's schools and colleges, exchanges present Cornell students opportunities to study abroad, and offer students from the partner institutions opportunities to study at Cornell's main campus in Ithaca, New York:
College of Agriculture and Life Sciences and the Business School of Hong Kong University of Science and Technology
College of Agriculture and Life Sciences and Shanghai Jiao Tong University biotech program in sustainable futures and emerging technologies
College of Agriculture and Life Sciences and Hong Kong University of Science and Technology business management and science programs
College of Engineering and Hong Kong University of Science and Technology program in engineering
College of Engineering and Beijing Institute of Technology program in engineering
College of Human Ecology's Department of Fiber Science and Apparel Design and Donghua University in Shanghai
College of Human Ecology and Hong Kong Polytechnic University's School of Design/Institute of Textiles and Clothing
Cornell Law School and Peking University Law School in Beijing
Cornell Law School and University of Hong Kong Faculty of Law
ILR School and Renmin University of China's School of Labor and Business School in Beijing
Samuel Curtis Johnson Graduate School of Management and Peking University's Guanghua School of Management
Executive Education Programs with China
Several of Cornell's schools and colleges offer executive education opportunities to Chinese professionals. Selected examples:
College of Architecture, Art, and Planning offers a design institute that brings architects, engineers, and design professionals from China to New York City.
Samuel Curtis Johnson School of Graduate Education offers customized executive education programs at several Chinese universities, including Nanjing University, Peking University, Tsinghua University.
Global Health Education at Weill Cornell Medicine offers 4-week clinical electives in New York City to visiting international students in medical schools in China.